CTAE Solution Sdn Bhd
95, Jalan Rosmerah 2/3,
Taman Johor Jaya,
81100 Johor Bahru,
Johor, Malaysia.

+607-3522526

+607-3522520

CTAE Solution (Butterworth)
Sdn Bhd
19, Jalan Perai Jaya 4,
Bandar Perai Jaya,
13600 Perai, Penang, Malaysia.
+604-399 2526
+6019-7112717 (Gary Cheng)
+604-390 2526
ctaepg@gmail.com
Flat Cable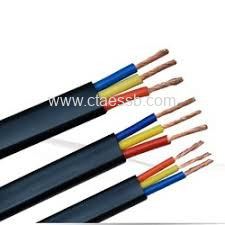 These are just a few of the many variants we have( which will be too long to add to this discription)
So,please contact our company for more info

1.5mmx12C
1.5mmx4C PVC Flat
2.5mmx2c Twin Flat Cable
26 Way
6mmx4c
Fajar 14/0.14mmx2c vc twin flat cable (red/white).................